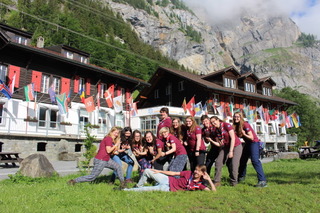 Keele SSAGO visited Kandersteg International Scout Centre for their first ever international trip!
On 10thJune Keele SSAGO flew to Switzerland for a week of fun at Kandersteg International Scout Centre (KISC).
After staying the night in Manchester airport, and getting little to no sleep, we flew to Geneva before travelling the rest of the way by train. We arrived at KISC, set up camp, ate dinner and got an early night.
Day two was more exciting. In the morning we started working on our many badge activities by completing an "Eco I-Spy" which involved spotting the local alpine wildlife. After lunch, and once it had stopped raining, we headed to Kandersteg village to have a look around. We visited the Scout and Guide museum that had a comprehensive collection of decades old memorabilia. After this we split up, some explored further, some bought souvenirs and others went on the swings. We returned for dinner and enjoyed a chat with a KISC staff member or "Pinkie" who also happened to be an ex SSAGO member.
On our third day we took a cable car up to the Rodelbahn, a metal toboggan. Unfortunately, due to the wet weather we only got one go each but it was still great fun. Then we wandered up to Oeschinensee Lake. Even with the low clouds and drizzle it was still a gorgeous blue colour. Four brave souls went for a swim in the lake! By the time we'd walked two hours down the hill we were all soaked through with rain, it seems we had bought the British weather with us!
Day four was the highlight for the Guides among us. We took the bus to Adelboden, which is the village home to Our Chalet, the WAGGGS World Centre. Originally, we had wanted to hike six hours through the mountains to get there, however weather warnings thwarted our plans. While the Guides enjoyed their self-guided tour and the shop, the Scouts worked on a very complex puzzle! With Our Chalet neckers and badges in hand, we returned to Kandersteg for dinner. Rather than being served at KISC we instead treated ourselves to dinner at a local restaurant. Tasty food and a humorous waiter made for a pleasant evening.
For our final full day in Kandersteg we finally had some sun! We travelled to Thun, a historic town north of Kandersteg. We visited the castle which was in pristine condition considering how old it was. We had a deeply cultural and traditional Swiss McDonalds for lunch, before heading to Shadaupark park and gardens. This beautiful garden was right next to the blue Lake Thunersee. Some of us decided to dip our toes in, others went all in and went swimming! We ended the day with a traditional campfire, and some of us tested the sauna at KISC.
Unfortunately, our time at Kandersteg had come to an end. On day six we were up nice and early to get the tents down and tidy away our camp for the week. After lunch we decided to take a ride on the Allmenalp cable car. It is very steep and ascends to 1700m above sea level. The views were spectacular and was worth it now the weather was nice. We left KISC at around 6pm and travelled to Geneva where we decided to get an impromptu hostel for the night (hurray for being under budget!) We got some dinner and headed to Lake Geneva for some last-minute sightseeing before the flight home in the early morning.
What started as the committes mad idea at Space Rally became one of the most memorable trips for all of us. We had an amazing time and are now brainstorming ideas for next year's international trip! Huge thanks and well done to the Keele SSAGO committee for planning all of this. We can't wait until next year's adventure!